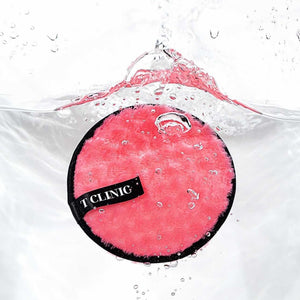 Reusable Makeup Erasers
Sale price Price $29.95 Regular price Unit price / per
Tax included.
A reusable microfiber makeup remover that wipes away even heavy makeup, using only water.
Made of 100% Soft Microfiber, T Clinic Makeup Erasers are smooth, durable and remove makeup much more efficiently than disposable makeup rounds owing to our improved microfiber technology! 
These makeup pads require only warm water and contain no chemicals ensuring gentle, non-allergenic and chemical-free skin cleansing.
The very fine microfibers pick up foreign particles from the deepest pores of your face and are easily washed off with warm, soapy water. As a result, they are highly reusable and replace up to 200-300 disposable makeup pads...and that's only for one pad!