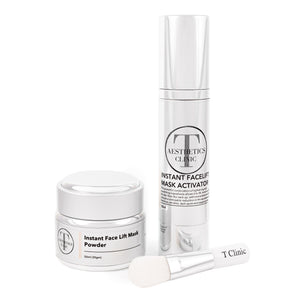 Instant Face Lift Mask
Sale price Price $80.00 Regular price Unit price / per
Tax included.
PRODUCT INFO
Our instant face lift kit delivers effective and immediate age correcting and lifting results to the face, neck and décolletage area, with just one 20 minute treatment. This powerful combination of tightening and nourishing ingredients allows it to lift, tone and firm the skin from the neck up, with immediate results that include a noticeable reduction in the appearance of fine lines, wrinkles, dark spots and sagging skin.
*This mask is a 2 part product-1 part powder : 1 part liquid 
DIRECTIONS
1. The guide is to mix 2 tablespoon of instant face Lift mask powder to 1 tablespoon of the instant facelift mask activator - (I like to give the visual of custard - not too thin not too thick!) Use your mixing bowl and brush.
2. Start at the neck and perform upward movements, on the centre of the face the movements are outward and forehead upwards (don't worry if you get this wrong - it's best if you work from the neck upwards though).
3. Wait 30- 45 mins for the product to dry, it might feel like a long time, but it's worth it! Your skin will feel tight and dry, you may feel a slight pulsing - this is normal so don't panic. Try to relax, maybe pop on a candle and read a book, listen to music or use it as mediation time.
4. After 30-45 mins I like to apply a damp Tclinic Makeup remover pad to help crack the tension in the mask, then use your gentle  cleanser to soften the mask. I like to use the brush to work my cleanser in, just make sure it's clean. I then finish with the wet makeup moving pad  or just water - be aware that you will need to do around three repeats of the above step to fully remove the mask.
INGREDIENTS

Purified Water, Fucus Vesiculosus Extract, Niacinamide, Propylene Glycol, Lactobacillus/Papaya Fruit Ferment Extract, Hexylene Glycol, Glycerol, Panthenol, dipeptide diaminobutyroyl benzylamide diacetate, Carbomer, Xanthan Gum, Caprylyl Glycol, Hyaluronic Acid, Urea, Diazolidinyl Urea, Phenoxyethanol, Ethylhexylglycerin, Potassium Sorbate, Triethanolamine
INSTANT FACE LIFT MASK POWDER Ingredients: Albumen, Zea Mays (Corn) Starch, Silica, Collagen, Dipalmitoyl hydroxyproline, Allantoin, Citric Acid.