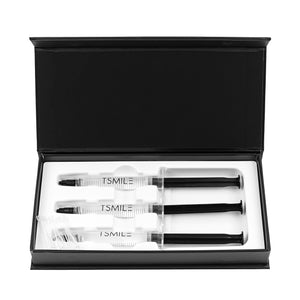 Whitening Gel Pack
Sale price Price $50.00 Regular price Unit price / per
Tax included.
Our refill kits are sure to keep your smile bright! Ensure you keep on top of your teeth whitening routine with our Gel Refill Kit. The Refill kit comes with 3 syringes of our Premium Potency Gel refills, sealed and stored in the T smile packaging for ultimate freshness.
Our enamel brightening gel is the same high-quality formula we sell in our premium kits,  meaning you won't need to compromise on your results.

Our specially formulated gel works by trapping the whitening enamel in close proximity to your teeth, where it cannot be diluted by salvia. The whitening enamel then activates on the surface of your teeth and begins the lightening process.  
Apply a small amount of gel to the dental reservoir. Always use your mouth tray when applying the gel refills and avoid swallowing the gel. 
Supported by the LED Light enhancer, the whitening gel works to lighten the tooth enamel gently, accessing each pore and dissolving stains and discolouration. While this is a gentle, gradual process, many of our customers see an incredible difference within just 14 days of consistent use.