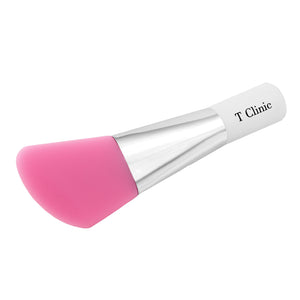 Dual-Sided Silicone Mask Applicator
Sale price Price $8.00 Regular price Unit price / per
Tax included.
C'mon, admit it. The only downside to masking? Grotty fingers! Smooth your favourite masks of all textures over that beautiful visage of yours, without lifting a finger. Looking for the clean-cut edges to your mask that make it insta worthy? This tiny tool is the ultimate #PWDKWN (Product We Didn't Know We Needed, for the uninitiated!)
What are the benefits of T Clinic Dual-Sided Silicone Mask Applicator?
Mess-free mask application that keeps your fingers clear of masks.
A silicone spatula is easy to clean and hygienic, minimising bacteria transfer from your fingers, to your jar/tube/pot of mask, to your face - and back!
One textured side, one smooth side - perfect for masks of all textures, all skin types and all skin concerns. 
The textured side of the applicator can be used to assist with removal, offering gentle exfoliation. 
Unique curved design that flexes to maneuver around the face, allowing for easier, mess-free product application.

How do I use T Clinic Dual-Sided Silicone Mask Applicator?
For thicker, or textured masks - use the smooth side of the applicator to draw mask onto the face. 
For liquid masks, use the textured side to grip onto the thinner texture for application. 
Pro tip: for clay masks, or masks that dry down - use the textured side, dampened, to gently buff in circular motions to remove the mask for an exfoliating treat.